About my services
Ideas for your ceremony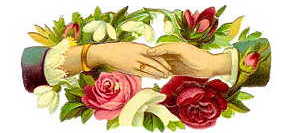 Other Services
The Unity Candle
The Unity candle symbolizes the coming together of two separate lives and the joining of two families. A Unity candle set can wonderfully accent any wedding ceremony. The center candle is a larger pillar candle and the two beside it are taper candles. A small tea light is lit before the ceremony begins. It already lit so that people don't have to fumble with lighters or matches during your ceremony.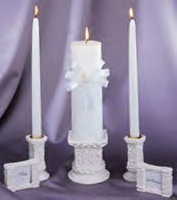 Unity candles are used as follows: As the first event of the ceremony your mothers, parents or any other person you select, light the two taper candles for you, from the burning tea light, leaving the Unity candle unlit. During the ceremony proper, about half way through, I will ask both of you to take the burning taper candles and light the Unity candle. The symbolism is easily understood.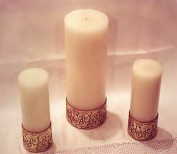 I encourage the use of Unity candles.
First, it gives you an opportunity to have your parents or other people involved in your ceremony while honoring them at the same time. Your moms or VIPs light the taper candles and give each other a hug- a great photo op!
Second, when you are lighting your Unity candle the musicians or DJ can play soft music in the ceremony. The both of you, side by side, will remain for a half minute or more at the unity candle setting. This gives the audience an opportunity to day dream about the both of you during a very romantic moment.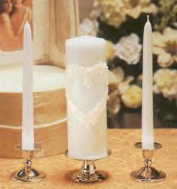 Unity candles are not indicative of any religion and are used by all faiths. You do not need an "official" unity candle set either. Any three candles will do, usually they are a pillar candle, two taper candles. It's a good idea to bring a votive or tea light just in case the venue does not have one. You can find plain white candles and decorate them yourself with accent pieces found at a fabric store. You can also coordinate the colors of the candles with those of your dress or bridal party. If you enjoy making things with wood, maybe you could make a birch candle holder like this.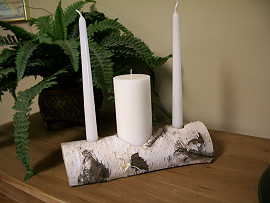 You can also have your florist incorporate a unity candle into a flower arrangement.