Here at A Wedding in the Country, we are a pet friendly venue. Having a wedding that includes your pet can be a lot of fun. It's only natural to want to include all of your family in your big day!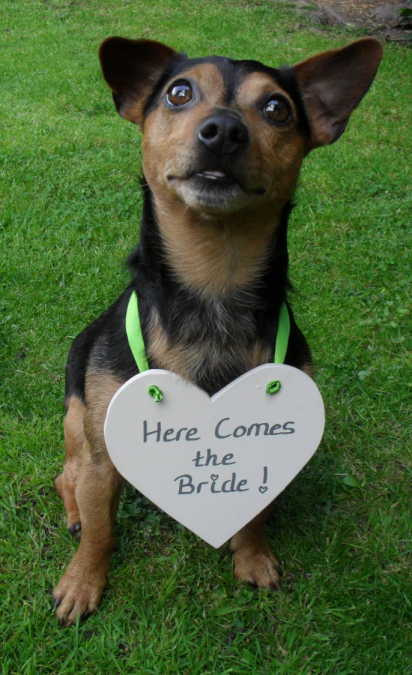 First, you need to consider your pet and their personality. Is your dog obedient and talented? Friendly and welcoming? More of a shy guy? Only consider having well-behaved pets in your wedding. Your pet can be allowed in the wedding if he/she is well-behaving and follows orders immediately. Also ensure that your dog is comfortable being with strangers. You will not want your little friend to jump at any new person he/she sees at the wedding. In other to make your pet to get used to being around strangers, you should bring them to the rehearsal.
If your pet has a personality or size that does not lend itself to a role in your wedding ceremony, consider having them in your engagement photos or photos after the ceremony instead. Engagement sessions are relatively short compared to full-day weddings and involve fewer people and less pressure for anxious or excitable animals. You will still be able to share a special moment with your furry friend and have great photos to share before and after the wedding!
If you decide that your pet will do well at your wedding, now is the time to assign them a role. Dogs can participate on the wedding day as a flower girl, ring bearer, best man or maid of honor - it is completely up to you. When deciding their role, always consider what your pet can handle. Before assigning a starring role to your furry friend, consider your pet, their personality and the best place for them at your wedding. Maybe they would be a great greeter, or if she is a show-off, consider having her come down the aisle with a bridesmaid or groomsman with your rings attached to their collar. There are lots of ways to include your pet in your wedding, just be sure the animal will be comfortable enough to do the job.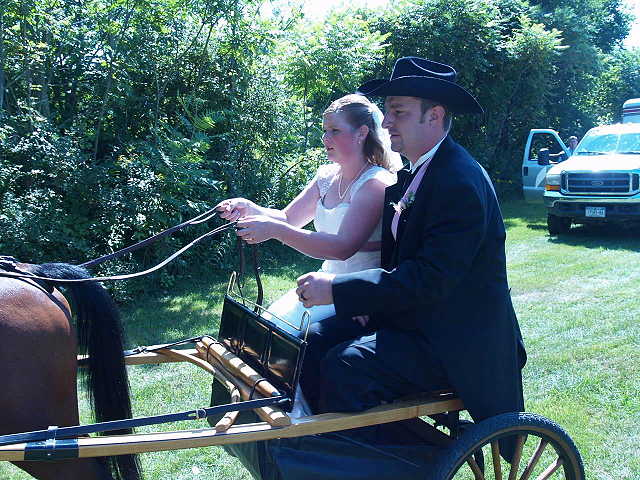 If you want to put him in a costume, be sure he tries it on several times in advance of the big day and does not scratch at it, whine, or try to take it off. When choosing a role for your pet, consider the length of time your animal will be having to on stage so to speak: If you want your pet with you at the altar, you might want to put a favorite nap pillow or non-squeaky chew toy up where the bridal party will stand. If your pet is a bit more active, you may want to have him greeting guests in an open space before your vows.
Make sure the flowers you put on your pet are edible. Many of you might want to dress up your pet by putting on garlands or flowers on its collar. Pets might bite off some flowers during the wedding, thus make sure the flowers are edible and not toxic. Some types of flowers that are toxic to animals are lilies, hydrangea, tulips and pink carnations.
Talk to your photographer. Your photographer will need to know that you are having a pet at your wedding in order to plan shots accordingly. Other wedding professionals. such as your caterer, the band, florist and other vendors will be grateful for the heads-up about your pet-friendly wedding. Communicate, communicate, communicate and your big day will go off without a hitch. Communication is key at a pet-friendly wedding!
Be sensitive to your guests. Some of your guests may have animal allergies, so you will need to let them know you are having a pet-friendly wedding on your invitation or at least on your wedding web site. Also consider bridesmaids and groomsmen. Someone might have an allergy to dogs or cats or do not feel comfortable around them. In this case you would have to leave your pet at home.
Have a designated pet sitter. This is a must. You will not have time to tend to every need your pet has on the big day. I recommend choosing someone you trust and who might be familiar with your dog to be your pet-sitter on your wedding day - they can walk him or her and allow them to do their business in a more discreet area. Bring plenty of food, water, treats and waste bags with you on the day of the wedding. Your pet will have to have all of her usual needs accommodated on your wedding day, so be sure to have the essentials on hand, plus some extra treats and toys around to keep her happy and comfortable. Toys, treats, a leash and a water bowl should be included in the pet luggage. Bringing along a carrier so that your dog can nap during certain parts of the wedding would also be helpful. So whether you hire a younger relative who knows your animal well or a professional pet sitter, be sure there is someone assigned to take care of your pet during the ceremony. Your pet sitter can even be the one to take your animal home or to your pet-friendly hotel room after the ceremony and pictures are completed. If you are looking for a professional sitter service so that you do not have to have a relative miss all the fun, check out Unleashed Canine Care of Saratoga Springs, by visiting their facebook page at Unleashed Canine Care or their website at Unleashed Canine Care
Remember that your pet will need naps and downtime. Participating in a wedding will be a big change for your pet: If you have a dog, consider the fact that on a typical day, she spends most of the afternoon napping. While the excitement of the wedding will keep your pet alert and energized for much of the day, they still need downtime so that your pet can relax and unwind, and if necessary, arrange for your pet sitter to take your animal home at a designated time.
Cats can sometimes be more difficult to include, especially if you have a fussy feline. A nice alternative would be to dress them up in little outfits and have them photographed for the save-the-date cards or wedding invitations. Some couples also choose to use the photos for their wedding reception place cards or in the wedding signing book. If you think that your cat is mellow and social then including him (or her) in the wedding day events should be fine.
And last but not least, remember to bath your pet carefully before the wedding. You would not want your pet to have any special smell that can bother the guests.
We know that your pet is a part of your family and we are happy to help you include your pet!