Directions to A Wedding in the Country .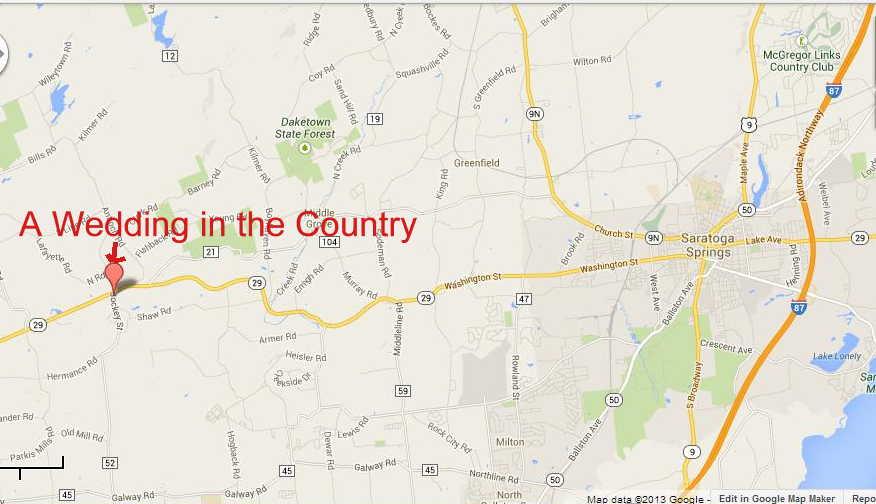 DETAILED DIRECTIONS FROM SARATOGA SPRINGS
From Broadway in Saratoga, take Route 29 West (also called Washington St.within the city) towards Amsterdam. There is a Starbuck's Coffee on the corner of Broadway and Route 29.*Make sure you are going west and not east.Follow Route 29 going west for 11 miles. You will go through Rock City Falls. The next hamlet is East Galway. You will come to the Village Pizzeria on your right. Immediately to the left is Jockey St. Turn left onto Jockey and the chapel is the second building from the corner on the right-hand side. It is less than 50 yards from the intersection. A lot of people go too fast after they turn the corner and drive right by the chapel! The chapel is hidden by the cedar trees out front.

DIRECTIONS FROM I90
Take the Amsterdam NY exit 27. Keep right at the fork, follow signs for New York 5S/New York 30 N and merge onto NY-30 N for 1.0 mile. Continue onto NY-67 E/Church St. Continue to follow NY-67 East for 9.5 miles. Turn left onto NY-147 North(Sacandaga Rd) Continue to follow NY-147 N for 5.9 miles. Turn right onto NY-29 going East for 3.2 miles. Turn right onto Jockey St. The chapel is the second building on the right.