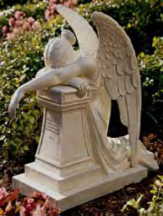 When a loved one passes away, we are so very often ill-prepared. Our emotions and our thoughts may become confused and scattered. I am here to assist you in collecting your thoughts, gain back your composure and help you with a memorial service. Life is so precious and unique that virtually everyone touches us is some meaningful way. Sharing precious moments in the life of your deceased loved one with friends, family, neighbors and co-workers can help you find peace and solace in your time of grief.
Thank you for finding your way here. If you are seeking a minister to create and deliver a personalized Memorial Service for your loved one in the Albany, Schenectady, Saratoga Springs area of New York, I welcome your inquiry.
The Memorial Services of Rev. Wendy Lyon
Personalized Memorial Service
Welcome. As a Minister and funeral celebrant, I create and deliver personalized memorials, throughout the Albany, Schenectady and Saratoga Regions of upstate New York. I find satisfaction in working with family and friends to create and deliver a very personalized tribute to a loved one who has passed on.
In so many ways, an end-of-life ceremony is an act of love. It is a beautiful way to say thank you to someone for having shared their life with us in a way that is deeply moving and meaningful. I can offer you a religious or spiritual alternative and especially for those who are not affiliated with a church or who would prefer not to have a traditional funeral service.
In a lifetime, most people organize 2 or 3 memorials and/or funerals. The individuals and families who often contact me want to honor their loved on in a unique and special way.
To begin our process of working together, I would like to set up a meeting with immediate family and/or friends as soon as possible. From there, I work to create and deliver a meaningful Memorial designed to joyfully celebrate and remember the spirit, character and story of your loved one who has passed away. During our meeting time, I learn the unique stories, songs, pictures and experiences that define your loved one. These memories allow me to co-create with you a "Celebration of Life" - whether at my church, a funeral home, private home, graveside or venue of your choice.
The task of creating and organizing an end-of-life ceremony is often challenging for immediate family and friends. As a Minister, I listen to your stories and work with you in organizing your service. Religious? Non-Religious? Readings? Scripture? Life Stories? Music? Candle lighting? Memory Book? There are these details - and so many more - to consider. In this way, I can create a smooth-flowing, beautiful crafted tribute for your loved one.
In all that I do, you have my personal assurance that I will create and deliver a beautiful and memorable Memorial with warmth, dignity, reverence and compassion. It is my privilege and honor to work with you to create a personalized memorial, or funeral that is a healing and comforting process rather than a disruption to immediate family and friends.
What the services include:
Services include: A thorough planning meeting at a location of your choice, a custom written ceremony that often includes comforting rituals, helping you on the day of your Memorial Service so you and your family are taken care of, and officiating the ceremony
All Faiths & Traditions are honored.
Grief is a journey. A ceremony that celebrates the life of your loved one is a valuable opportunity to begin true healing for grieving family and friends.
Schedule a Meeting
For availability please email me, call 518.882.6773, or complete this easy form for a prompt response. I love and treasure this very meaningful work that I do. I look forward to speaking with you.
In remembrance.
In the rising of the sun and its going down, we remember you.
In the blowing of the wind in the chill of winter, we remember you.
In the opening of buds and in the rebirth of spring, we remember you.
In the blueness of the sky and the warmth of summer, we remember you.
In the rustling of leaves and in the beauty of autumn, we remember you.
In the beginning of the year and when it ends, we remember you.
When we are weary and in need of strength, we remember you.
When we have joys we yearn to share, we remember you.
For each season, for each occasion, for each holiday
and each birthday, for each moment of our lives,
we remember you.